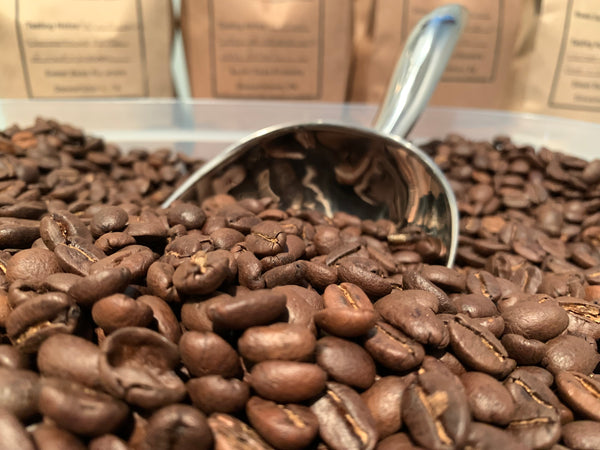 Our Coffee
We offer single origin and custom blends of coffee.
High Quality Green Beans
Green beans are sourced from around the world to supply our customers with unique coffee flavors.
Freshly Roasted
We include a roast date on every bag of our coffee beans.
About Us
Our company began with an interest in finding a better cup of coffee. That search led us to roasting coffee for ourselves at home. We found that freshly roasted single origin and crafted blends of coffee was a much better experience.
We've evolved our craft and are now equipped to share our fresh cup experience with others.
We use the latest in artisan profiling, commercial equipment, and coffee education to provide our customers with a superior sip.
The small batch difference
We take pride in sharing our craft with our customers. By roasting small batches of coffee we have a high level of control over the quality and freshness of our product. Each batch is a hands on process from start to finish to bring out the best qualities in each origin of coffee. It's a difference you can taste.
Where to Find Us
Daily Crisis Farm - 2837 Bradenbaugh Rd White Hall, Md 21161
Red Barn Farm Market at Harry C. Dehoff Farms - 1553 Woolen Mill Rd Stewartstown, PA 17363
Southern Sol Shoppe - 4115 Norrisville Rd White Hall, MD 21161
Beaumont Pottery - 13726 Jarrettsville Pike Phoenix, MD 21131
Old McDonald had a Farm Stand - 60 E. High Street New Freedom, PA 17349
The Market at Clear Meadow - 3134 Troyer Road White Hall, MD 21161
Pond View Farm - 2601 Jolly Acres Road White Hall, MD 21161
You Make Scents Candles - 31 W Courtland St., Bel Air, Maryland 21014
Main St. Market - Glen Rock - 17 Main St, Glen Rock, Pennsylvania 17327
Night Owl Books & Collectables - 12 N Second St., New Freedom, Pennsylvania 17349